I'm curious to hear how you would approach this project:
I am trying to decide between one large project with 5 sub-projects or have five smaller projects that auto complete when the last task is done. What I don't like about one large project is that it never feels like i'm "complete" with Hot Tub Maintenance. .
I know this is a preference question, but I wondering how others would approach it.
Thanks!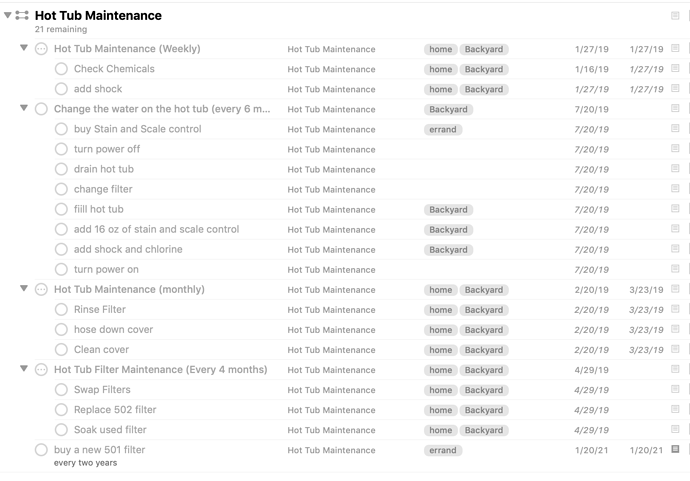 Taskpaper Details

- Hot Tub Maintenance @parallel(true) @autodone(false)
	- Hot Tub Maintenance (Weekly) @parallel(false) @autodone(true) @context(home) @tags(home, home : Backyard) @due(2019-01-27 15:00) @defer(2019-01-27 00:00) @repeat-method(start-after-completion) @repeat-rule(FREQ=WEEKLY)
		- Check Chemicals @parallel(false) @autodone(false) @context(home) @tags(home, home : Backyard) @defer(2019-01-16 16:00)
		- add shock @parallel(true) @autodone(false) @context(home) @tags(home, home : Backyard)
	- Change the water on the hot tub (every 6 months) @parallel(false) @autodone(false) @context(home : Backyard) @tags(home : Backyard) @defer(2019-07-20 00:00)
		- buy Stain and Scale control @parallel(true) @autodone(false) @context(errand) @tags(errand)
		- turn power off @parallel(true) @autodone(false)
		- drain hot tub @parallel(true) @autodone(false)
		- change filter @parallel(true) @autodone(false)
		- fiill hot tub @parallel(true) @autodone(false) @context(home : Backyard) @tags(home : Backyard)
		- add 16 oz of stain and scale control @parallel(true) @autodone(false) @context(home : Backyard) @tags(home : Backyard)
		- add shock and chlorine @parallel(true) @autodone(false) @context(home : Backyard) @tags(home : Backyard)
		- turn power on @parallel(true) @autodone(false)
	- Hot Tub Maintenance (monthly) @parallel(true) @autodone(true) @context(home) @tags(home, home : Backyard) @due(2019-03-23 15:00) @defer(2019-02-20 00:00) @repeat-method(start-after-completion) @repeat-rule(FREQ=MONTHLY)
		- Rinse Filter @parallel(false) @autodone(false) @context(home) @tags(home, home : Backyard)
		- hose down cover @parallel(false) @autodone(false) @context(home) @tags(home, home : Backyard)
		- Clean cover @parallel(false) @autodone(false) @context(home) @tags(home, home : Backyard)
	- Hot Tub Filter Maintenance (Every 4 months) @parallel(true) @autodone(false) @context(home) @tags(home, home : Backyard) @defer(2019-04-29 00:00) @repeat-method(due-after-completion) @repeat-rule(FREQ=MONTHLY;INTERVAL=4)
		- Swap Filters @parallel(true) @autodone(false) @context(home) @tags(home, home : Backyard)
		- Replace 502 filter @parallel(true) @autodone(false) @context(home) @tags(home, home : Backyard)
		- Soak used filter @parallel(true) @autodone(false) @context(home) @tags(home, home : Backyard)
	- buy a new 501 filter @parallel(true) @autodone(false) @context(errand) @tags(errand) @due(2021-01-20 15:00) @defer(2021-01-20 00:00)
		every two years