I have a project called "Routine" that has a bunch of single-action items in it. I want to make one called "clean the dryer's lint trap", but I'm not sure what kind of repeating style I want.
I set the item to be deferred to two months from now and come due three months from now (giving me a month-long window every single time). When I finally get around to doing it, whether it's in two months or five months, I want the newly-created task to be deferred two months from then and then come due three months from then.
I read the manual in iBooks and thought "this is like watering a cactus — I don't want to bother doing it again before it has at least two months to accumulate lint", but on the other hand, cleaning the lint trap is also like cleaning the kitchen. And it also seems to be a lot like going to the dentist, so I'm asking for help.
I set up the first reminder like this: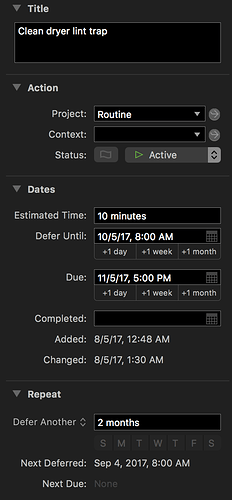 The "next deferred" date seems utterly wrong here; it's one month from now. If I change the item from "defer another" to "due again" the "next deferred" date will be None and the "next due" date will be October 5, two months from now.
Focusing on the UI for a bit, OmniFocus can't really tell me what my next deferred and due dates will be because I haven't completed this item yet. It could tell me things like "two months after this item is completed, starting at 8 AM" or "three months after this item is completed, at 5 PM", but I don't know what to make of the dates it's giving me here.
Do I want "defer another"'s functionality, "due again"'s, or do I want the behavior of something that hasn't been implemented yet?
Possibly related: What's the difference between "defer another" and "due again" for a task with a due date?