Does it seem a good idea to automatically delete connector graphics entirely when either their source or destination object is ungrouped ?
Involuntary auto-deletion of user data/graphics would seem, in principle, like a good thing to avoid, if possible. The behavior I would prefer (and probably expect) is for the connector to remain on the canvas after its source or destination is dissolved by ungrouping.
At the moment, if we connect two groups with an arrow using these settings: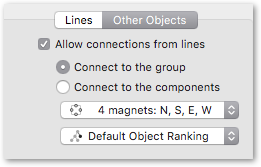 to get something like this:

the blue arrow will swiftly and suddenly vanish away, and never be met with again, if we ungroup either its source object or its target object.
I would vote for it to remain on the canvas (with its source or destination property simply cleared).