In OmniFocus 3 it became possible to set a custom ordering for each tag. This custom ordering could be set and used in the built-in Tags perspective or in any custom perspective whose presentation settings are:
Group and sort: Individual Actions
Group actions by: Tag
Sort actions by: Tags Order
This is a nice feature, but it's only available in perspectives where actions are grouped by tag.
Now, on the one hand, this limitation is understandable. Sorting by tags order inside other types of groups is going to be tricky. On the other hand, sometimes it really would be nice to use a custom tags order in some other situations.
For example, I have the following perspective: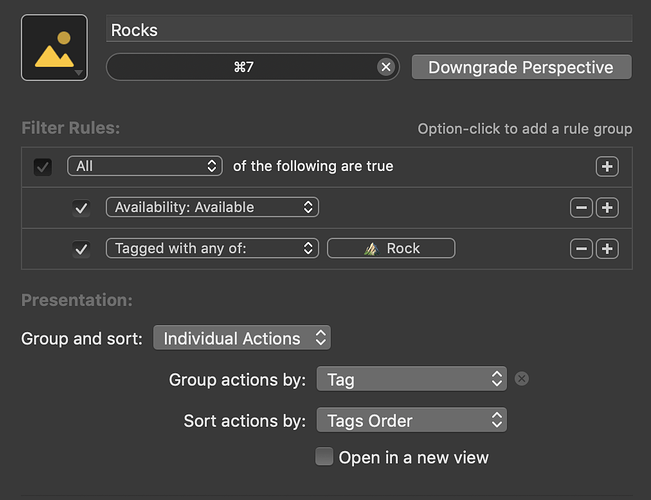 The Rock tag is a simple leaf tag which does not have any descendants. I assign this tag to some actions, and then I want a perspective which shows those actions and allows them to be re-arranged. However, my Rocks perspective has two flaws:
The top of the perspective looks like this:

The "Rocks" tag group heading is redundant since every action in the perspective is already filtered to have that tag.
It's painful to attach other tags to these actions since these other tags then flood the Rocks perspective.
Ideally, this perspective would have something like the following (hypothetical) presentation settings:
Group and sort: Individual Actions
Group actions by: Ungrouped
Sort actions by: "Rock" Tag Order
There may be some more general solution, but at a minimum perspectives which filter for some specific tag could offer the option to sort by the custom tags order of that tag.