Hi folks! We've just made public test builds of OmniPlan 4 for Mac available, and we'd love your feedback and help with testing features like Recurring Tasks, Task Roll Up, and Interval Tracking.
You can read more about the OmniPlan 4 public test on our blog, and sign up to test here!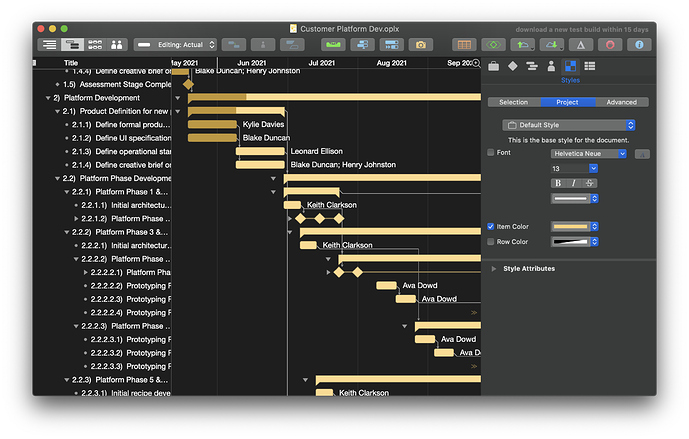 OmniPlan 4.0 Initial Test Release Notes
A note about backwards compatibility: OmniPlan 4 for Mac contains changes to OmniPlan's scheduling logic and file format. While some versions of OmniPlan 3 are able to open projects created in OmniPlan 4, those versions of OmniPlan will not use the same scheduling logic when computing project schedules and you may notice scheduling inconsistencies. We do not recommend syncing OmniPlan 4 projects with OmniPlan 3 for iOS or previous versions of OmniPlan for Mac.
Recurring Tasks — Tasks can now be scheduled to occur at daily, weekly, monthly, or yearly intervals.
Task Roll Up — Group tasks can now to be set to "When closed, roll up children" in the Task Inspector. When this option is set, sub-tasks and milestones are displayed in a single line when the group is collapsed.
Manual Task Scheduling — Tasks now support manual scheduling. Tasks which are set to be scheduled manually will use the start and end dates you provide; OmniPlan will not attempt to automatically reschedule them. (Manual task scheduling replaces the "locked" task date functionality offered by previous OmniPlan versions.)
Interval Tracking — Cost and effort tokens can now be added as labels below tasks in the Gantt or displayed in the Gantt header. These tokens display the total cost or effort for the current time increment, or the cumulative total cost or effort up to that time increment.``
File Type — OmniPlan projects can now be saved as flat files or package files. The file type for a project can be modified in the new Document section of the Project Inspector. Package files can be faster to save, but flat files are more compatible with third-party sync services such as Dropbox and Box.
Automatic Light/Dark Mode — Projects created with default OmniPlan templates now automatically switch between light and dark mode when your system does.
Project Outline View — New, dedicated top-level project outline view.
Unified Resource View — Project and resource work hour customization have been consolidated into an enhanced Resource View. This view provides easier access to existing functionality and introduces a new schedule exception popover and customized day list, which allow for titling schedule exceptions and creating exceptions that span any length of time.
Major Inspector Update — Appearance, layout, and organization of all inspectors has been updated to increase discoverability and improve access to functionality (this work is currently in progress).

Updated Task Schedule Inspector — Support for scheduling tasks manually has been added to the Task Schedule Inspector and the workflow for setting up task constraints has been updated. Task baseline information has been split out into a new Task Baseline Inspector.
New Task Scheduling Influences Inspector — The functionality previously offered by the "Show Scheduling Influences" popover is now displayed in a dedicated Task Inspector.
Overhauled Styles Inspector — The Styles Inspector has been re-designed to offer easy access to all of OmniPlan's advanced styling functionality in one place, replacing OmniPlan 3's Styles View.
Unified Custom Data Inspector — The Custom Data and Attachments Inspectors have been updated and consolidated into a single inspector.

View Customization UI — View customization options are being re-organized to make them easier to find and use (this work is currently in progress).
HTML Reports [PRO] — HTML reports now support displaying total Resource Effort.
Default Template — Projects created by importing content are now created in the user's default template.
Dependency Lines — Dependency lines can now be selected and deleted in the Gantt.
Export — OmniGraffle export has been replaced by Graphviz (DOT). Graphviz files can be imported by OmniGraffle, as well as by a range of third party applications.
Export — Exporting projects as OmniOutliner 5 .ooutline files is now supported.
Gantt Selection — Task selection highlight is now drawn over the entire task row in the Gantt view.
Gantt Selection — You can now click anywhere in a task's row to select a task in the Gantt, and some dragging and selection behaviors have been adjusted.
Inspectors — Inspectors now switch automatically between tabs in a more logical manner.
Leveling — Completed and partially-completed tasks are now included when leveling resources.
Outlines — A Task Type column can now be added to task outlines.
Outlines — Violation icon is now displayed in Violation column when a collapsed group contains a task with a violation.
Outlines — Documents now remember when "Collapse When Not Editing" outline behavior has been selected.
Resources — Work calendars for material and equipment resources are now respected when scheduling tasks.
Resource View — "Unassigned" swimlane in Resource timeline can now be hidden.
Scheduling — Various scheduling and leveling improvements.
Styles — Conditional styles, like overdue and completed, now affect all task types.
Styles — It is now possible to specify a default style for hammock tasks.
Styles — Default task style groups now support strikethrough text styling.
Calendar Subscriptions [PRO] — Changes to local Calendar events referenced by an off/extra hour subscription now update immediately.
Gantt — Tasks in projects with Daily granularity now "snap" to day increments when dragged in the Gantt.
Resource Allocation — Resource Allocation settings can now be changed for multiple selected tasks.
Resource Cost — Values in Resources' Total Cost column now recalculate immediately when task duration is edited.
Scheduling — Changing assigned units in a task with resource allocation set to "adjust assigned amounts" now correctly updates the task's effort.
Task Outline — Handles for Milestone tasks now always appear as diamonds in the task outline.
Total Hours — Total resource hours are now calculated correctly when a specific resource and a resource group is assigned is to a task.