Is this considered normal statistics for OF usage? Mobile version often become sluggish so I consider it is possible that I am not using app correctly. Should I use other solution to manage my projects?
Currently at executive level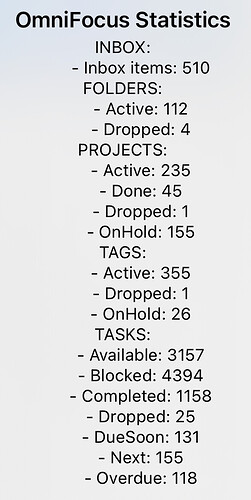 Any other suggestions, risks and opportunities?
Tried Jira, Trello, paper etc but currently OmniFocus with tags is best fit to manage my whole life. But maybe I'm creating some bottlenecks for myself. My operations are grown 2x recently and I plan to grow 10-100x and eventually attain status of UHNWI - maybe I need to abandon current life management system to not limit my growth
Any suggestions and ideas?