At the moment OG7 documents/canvases created by script:
Crash OG7 instantly and reproducibly when evaluating omniJS code
Sometimes lose access to content (visible in outline panel, but not printable or displayable in outline panel) if the only non-scripted canvas is deleted before a document also containing an omniJS script-created and script-populated canvas is saved. (The jump to 6,400% Zoom on 'Fit in Window' also appears in these cases).
The second of these was reported as a bug, with a sample document or two, a month or two ago, and still intermittently turns up, but the first I have only understood this morning.
My guess is that if 1 can be tracked down and fixed, then 2 will vanish with it :-)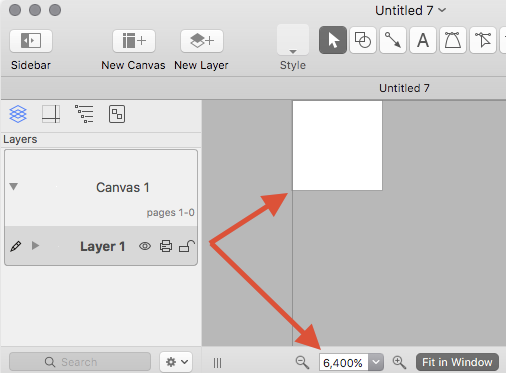 JXA code to create a document like this:
    // ogFrontDoc :: {useExisting : Bool} -> OG.Document
    const ogFrontDoc = ({
        useExisting: bool
    }) => {
        const
            og = Application('OmniGraffle'),
            ds = og.documents,
            d = bool && ds.length > 0 ? (
                ds.at(0)
            ) : (() => {
                return (
                    ds.push(og.Document()),
                    //ds.at(0).canvases.push(og.Canvas()),
                    ds.at(0)
                );
            })();
        return (
            og.activate(),
            d
        );
    };

Invoked with:
    const d = ogFrontDoc({
        useExisting: false
    });

If omniJS attempts to create and populate a new canvas in a document created like this with JavaScript for Automation or AppleScript, then OG7 instantly crashes. (Multiply reproduced without fail this morning :-)