I have several tasks that I complete on an annual basis, but sometimes take me months to get to. So while they are completed once a year, ideally in January, I may not complete them until ( like today ) May. However, I still want the next due date to be Jan 1 of the next year.
I have a task which is set to repeat each year, and the other options are
Repeat from Completio n
Repeat from Assigned date.
So perhaps if I set the due date to Jan 1 with a repeat of 1 year from the assigned date, I'll be set? Example below of a task I completed today and manually set the next due date to Jan 1 , 2020.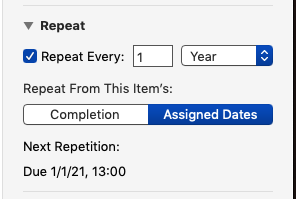 if now, Is there a way to do this in OF3?