Continuing the discussion from Using It For Blogging:
Does anyone have a script to copy selected rows in markdown? Or, it might simply work to always copy in plain text instead of rich text.
If the OO outline is kept in plain text, then it copies in a markdown ready format. This is determined from my preferences


However, if I have any rich text, it will pick up the preferences for rich text export.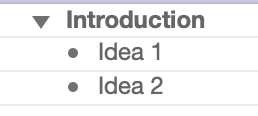 ▾ Introduction
• Idea 1 Completed
• Idea 2