Very similar to @wilsonng!
Especially given your roles I like these maintenance top-level folders.
Love your contexts too. Also, those are now tags in OmniFocus 3.
I like this and something I should look at again. My current top-level folder are the following: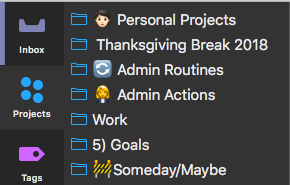 I need to take a good hard look at my Goals folder and Someday/Maybe. I'm sure some could be deleted or moved to DevonThink for the time being.
Given your various roles, how do you manage tasks resulting from parenting and such? I commend you for using OmniFocus and having a system in place while also having three kids. My dad has 2 kids (myself and my younger sister) but doesn't really seem to have a system.