On iPhone finally after years simple editing of long tall entries full of pasted images stops scrolling up way off the screen when I insert an editing cursor. However, the search feature now hiding in the Sections page no longer scrolls down to a search hit I highlight. In the last version of OO3 it often failed too but if I used the Select All option, cancelled and tried again it usually worked since the initial operation seems to exposed the entries in the way manually scrolling way down does. Now the search/select operation never scrolls down, it just selects, so in super tall outlines with a couple hundred entries I have to manually scroll down to find the merely highlighted item. This completely breaks the app utility to me! I can't quickly edit a note buried down in an outline any more. The OO2 simple search feature worked just fine, every time. It's bizarre that simple search, the most basic feature of any word processor or outliner, gets completely broken instead of fixed after I was told a job ticket was being added for this reported bug, from your Twitter account.
Here it stays at the top of my long outline of 3D modeling notes despite my checking a search hit: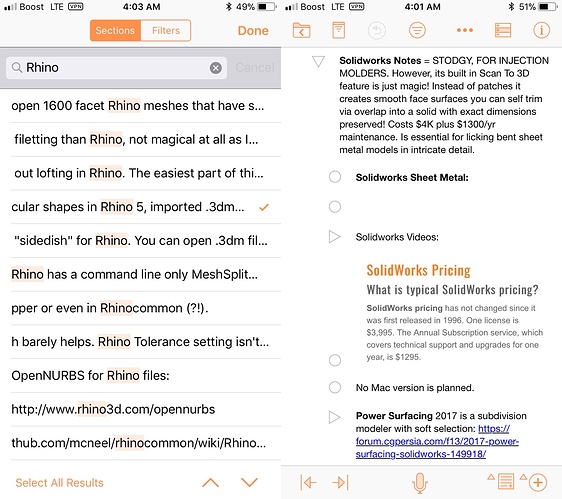 If I select all results it does scroll down to the first entry: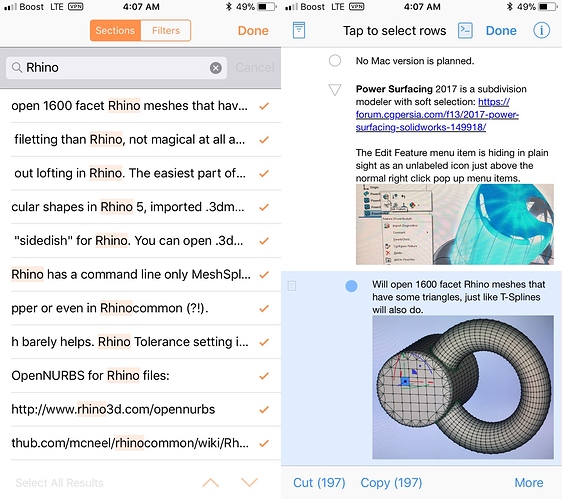 It's also just crazy to have two toolbar icons for simply searching. The Filtering icon creates filters and then a separate tool icon invokes saved filters? That's the weirdest interface design I've seen since Windows 95 shareware utilities were needed to manage files.
Can I write an API script to restore a simple search and seek (scroll down to) command? This also needs to afford full outline exposure down deep into the outline which manually scrolling is slow to activate ("loading more rows…").
Another years old bug is that after pasting in an image, font size goes down from default 13pt to 12pt so I'm constantly having to edit back to 13pt.