Hi all.
I have a "Topics" column that contains topics. Duh!
Some topics also contain sub-topics (indented) and some sub-topics contain sub-sub-topics. Etc.
Like so: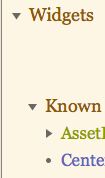 Is it possible to do "Organize/Sort Outline/Topic, A-Z", but NOT sort the sub-topics (and sub-sub-topics) that are contained in the "first-level" topics and leave those in whatever order they already are?
Thanks!