Test builds of OmniPlan 3.11 for Mac, with macOS Mojave Dark Mode support, are now available!
Interested in helping us test? Grab our latest test build here:
https://omnistaging.omnigroup.com/omniplan/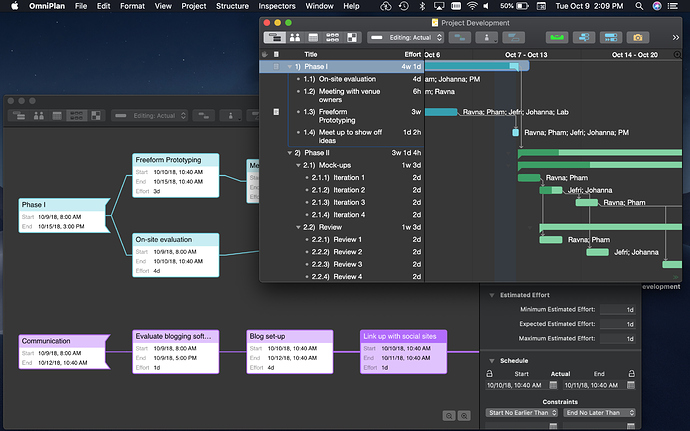 Recent Changes
OmniPlan 3.11 for Mac introduces support for Dark Mode on macOS 10.14 Mojave.
OmniPlan 3.11 requires macOS 10.13.
Dark Mode — OmniPlan now supports system Dark Mode on macOS Mojave. When your Mac's Appearance is set to Dark in System Preferences, OmniPlan's interface will automatically switch to Dark Mode. Running OmniPlan in Dark Mode does not affect styles in OmniPlan projects - if you'd like to update your project's styles to better match Dark Mode, use the Styles View to customize your project's background and text colors.
Network View — The background color in Network View now matches the Project Background Color specified in Styles View.
Styles View — We've removed the extraneous button for opening the Fonts Windows from the bottom row of Styles View.
Filter Rules — The default size of the filter rules editor is no longer too short on macOS Mojave.