Hi,
I have been running a Today perspective for sometime now and have noticed this before however never have posted about it before.
My Today perspective is calibrated as follows: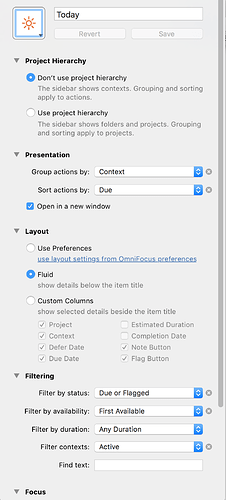 The issue I am having is when I click on the Today perspective, the only contexts that should be showing (I would imagine) would be ones that have been flagged or are due. So this is my Today perspective for today. There is one action in there (which has been flagged and should be in there) under the context MacBook Pro : Online. However, if you look there are two other contexts that are listed to the left and do not have actionable items (nothing is due nor is flagged under these contexts).


So I am confused on why they are showing other two contexts showing when they have no actionable items that have been flagged or are due?