This is a quick tip I want to mention:
I add several characters to the titles of my repeating actions and projects so that I can visually distinguish repeating items from non-repeating items.
Last year I was complaining to my manager that I was responsible for too much work and could not adequately handle my responsibilities. At the time, I felt confident that I could simply show him the enormous list of projects and actions in my copy of OmniFocus to prove that I was overloaded. Unfortunately a tour of OmniFocus did not sway his opinion. Instead, he wanted to gain an understanding of how many of my responsibilities were recurring actions versus one-off actions.
At first I thought, well hey, OmniFocus has a "Repeat" feature. I betcha I could perform a simple search to view all of those repeating actions in one list. Sadly, that doesn't turn out to be possible with the current OmniFocus. To be able to view repeating actions through a search in OmniFocus, I realized that I would need to give repeating actions a distinguishing quality that is searchable.
I decided that the cleanest and easiest way to implement a solution would be to prepend every repeating action title or project title with several characters: [R]. (The mark is essentially an R inside of a square. I suppose I could have used the Ⓡ mark instead, but it can be difficult to see in a small font.) This would not only visually distinguish these repeating actions and projects from non-repeating actions and projects, but it would also give me the ability to search for those prepended characters to view all repeating items.
Here is a look at how the two types of actions appear on a day in the Forecast perspective: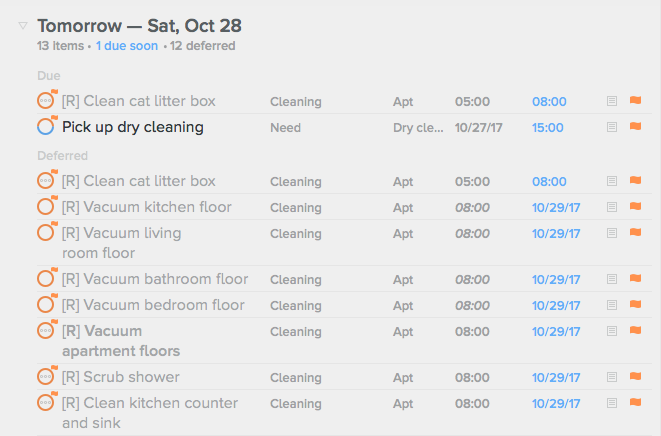 At a glance I can easily see that tomorrow I have a bunch of repeating chores that will become available along with a single one-off task that is due. I can then use this information to gauge the relative priority of each task.
In the future, I would love to see OmniFocus better implement the "repeat" feature so that it provides a searchable condition as well as a visual indicator to help distinguish repeating from non-repeating items. Until then, I think I'll stick with my little trick. I hope this help you as well.