When I add a new task to OmniFocus with a ⇧⌘Space shortcut, the Quick Entry popup window prompts me for the details. In this post, I want to focus on the "project" name: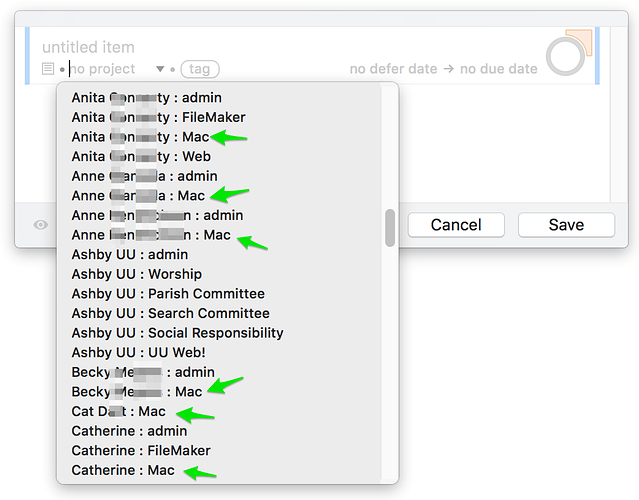 The Project dropdown menu is a "folder : project" list. My folders are the names of clients, friends & organizations. You'll note that many of the folders have like-named projects (e.g., Mac, FileMaker, admin). The two-fields-in-one make it easy to select from the menu with just a few keystrokes.
My "Due Soon" custom perspective shows a list with these columns: Project, Tags, Due Date, Note Button, and Flag Button.
The serious shortcoming of this custom perspective is the "Project" column shows only the project names, leaving me to guess the top-level client, friend or organization folder name. For example, who asked for a Mac "upgrade to Mojave"???
I'm posting this for advice & discussion before emailing a feature request to the OmniFocus team.
– Ward
P.S. After a very helpful conversation with Aaron (Omni Group Tech Support), I updated the title of this post, replacing "Top-level Project" with "Top-level Folder" and made that terminology correction in the body of this post.