A little bit of history: I work on software projects that are usually used for either custom test systems or embedded control of hardware for various things. This means that my software projects usually have aspects that are (at a minimum): 1) Strictly architectural or pure software, 2) interfacing with hardware, 3) system-level monitoring and control, 4) documentation. I started using a bit of GTD-influenced project organization with a Palm and Windows application called Natara Bonsai, which was brilliant because it was basically a really souped up outliner that synced between windows and Palm, and also tied into the Palm tasks database so that I could lay out my tasks in the outliner version but schedule and check them off using the Palm native tools.
Unfortunately, time marches on and I moved to the Mac platform and an iPhone. Pretty much since the release of OF, it's been the best option if you like organizing tasks in a hierarchical fashion (which maps well, in my opinion to formal software development methodologies). Unfortunately, my primary device these days is my iPad Pro, followed by my iPhone, and OF is absolutely terrible for that kind of structure on either device right now. Action Groups just clutter up the screen and make it harder to view the actual tasks that you want to get done, and using project folders makes navigation hilariously bad. Instead, I've found myself trying to get rid of all of my project folders and use a flat list of projects, and I'm trying to figure out how to use flat projects, but what's happening instead is that I either spend too much time organizing tasks or I just ignore OF for days at a time because it doesn't work at all for me.
To be a little more specific: My current role is leading the flight software development for a project on the ISS. This means that I'm supporting a suite of software that's broken into roughly two dozen pieces, each of which has outstanding improvements, anomalies, and defects, and any change to which needs to be documented, tested, and reviewed. If I was working in Bonsai, I'd have a giant outline which would look something like this: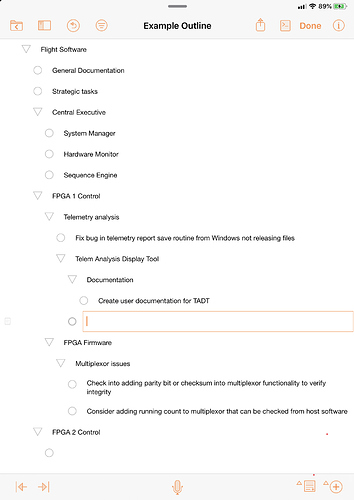 I'd like to be able to do this because we use this kind of structure all throughout formal software development efforts like this. It's in all the documentation, it's how we organize test procedures and results, it's even reflected in our JIRA and Wiki setups.
I can't be the only one who has this kind of a problem. Are there other folks out there who want their OF database to mirror their actual work environment? How do you do it?