I've used OmniFocus for years for personal tasks and school assignments. I finally started in my field of study recently and am putting OF to some serious use.
My job has me work with several clients at a given time, and I've given each client their own project in a 'Clients' folder. Many tasks in a client project will have start and due dates based on sessions. For example, a task could be entered under Bob Smith with a defer date of [Session 1] and a due date of [Session 4]. I keep a template project on hold, and copy the contents when I'm assigned a new client. Once we schedule a first session, I manually go through and change the dates for these tasks, making them relative to that first session date. It's a little tedious and inelegant, but not bad for a one-off thing I have to do for new clients. However, I find myself having to tweak these tasks anytime a session is missed or moved to a different date, not to mention when I notice I hadn't made a note about a date change! (This template has subtasks nested within several header tasks with names like "Start after 2nd session, due by 6th session" so I can make the shifting a little bit easier, though this clutters the project view.)
Ideally, I'd be able to set start and due dates of [Date of Session 1 + 3 weeks] and be able to modify that referent date so OF can shift the other dependent dates in the project. If the session was moved from Monday to Thursday, it'd be great to just add three days to all the start and due dates of tasks I would cmd+select (or add three days to a referent date and let the dependencies calculate themselves).
Am I looking at pie in the sky? Has anyone else facing a similar workflow found a more elegant solution than manually doing a bunch of shifting of dates whenever a client's session date changes?
EDIT: Here's a snapshot of an example client project.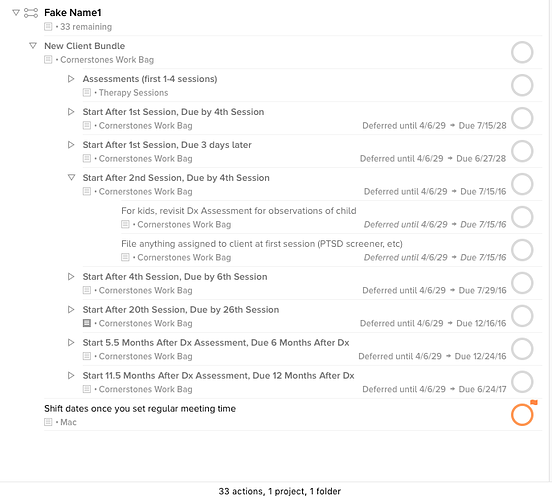 As you can see, tasks are clustered when they have the same start AND due date. That way, if I have to shift the dates because a client had to change their meeting time from Tuesday to Mondays, I can manually change the whole cluster at a time. But that still leaves me clustering these all together and manually changing them constantly.
It'd be fantastic to give each project a "referent date," and set defer and due dates based on it. I could schedule a task with "r+4 weeks." If a client were to want to meet a day earlier next session, and keep it as our normal session time, I could change any task in the project by changing the r (referent date) to a day earlier. Or, if a session was skipped outright, I could change r to be a week later, and let remaining tasks change themselves.
I suppose an alternative solution could be to cluster all tasks that involve dates relative to sessions into one cluster, and find a way to select it and say "add 2 days to all dates" or something.