Hi there,
I am new to using these forums but not new to Omnigraffle (although I'm still a novice).
I have a question regarding connections.
By default, connections fix themselves to the centre of object. I am aware that this can be modified using magnets, allowing me to connect lines to the outside edges of an object.
However, I am looking for a way to connect objects to one another WITHOUT the lines physically touching the object. I want the objects to have a relational connection, and I want there to be a connecting line between them, but I don't want the line to physically touch the sides of the shape.
I have emulated what I mean here by using a white stroke on a white background (two screen grabs below):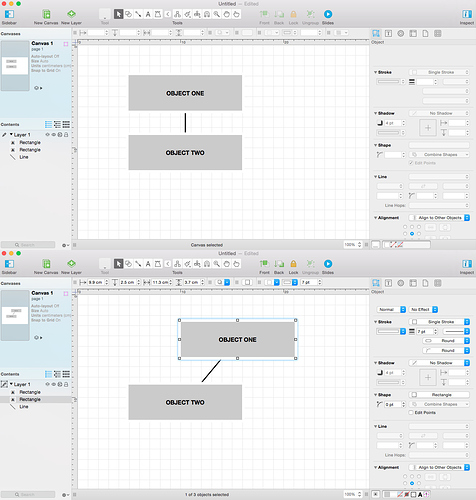 The problem with this method is that it prohibits me from connecting objects that already have non-white strokes.
Is there a way around this? Is there a way to connect objects with a "buffer" between the connection line and the object themselves??
Any help would be greatly appreciated!
Thanks,