A simple version of Entity-Relationship Diagram (ERD) use "Crows Feet" notation.
https://en.wikipedia.org/wiki/Entity–relationship_model#Crow's_foot_notation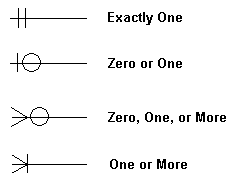 Each end of a line should offer a triple-spike (optional). Behind that, on the line, should be a vertical bar (meaning 1), and an "O" or zero (meaning zero), both optional. Or a pair of vertical bars (meaning one and only one).
The lines hook up to boxes listing the names and fields of entities/tables. The lines should intelligently wrap around boxes using right angles.
I have found some crude crows feet templates for OmniGraffle but they were clunky, did not look good, the triple-spike (crow's toes) did not align to the target box, and were difficult to use. A great disappointment to this paying customer since an ERD is one of the most common kinds of diagrams I would expect from a diagramming application like OmniGraffle.
It would be nice to have a box for the entities/tables, a box with a row at the top for the entity/table name, and a two-column list below for each attribute and data-type. Bonus points for some attractive subtle coloring and background shading, as well as plain black-and-white.