Hi,
I am using OmniFocus 3.4.5 test (v128.29 r337506) (more details below [1])
I am seeing due dates like "Nov 12019" … seemingly 10000 years into the future.
I know I can procrastinate, but… ;-) … When I enter my due date as 11/15/19 I end up with a year 12019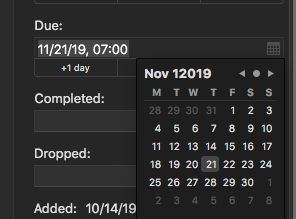 I have macOS 10.14.5, and a system preference -> lang/region -> calendar : ISO 8601
Any ideas on what's happening here and how to deal with this?
I'm happy to file a more formal issue and help debug. I did find something mentioning a potentially related matter [2], but hit a dead end with any other options relative to that.
Regards,
Stephen
[1] Build details:
Product: OmniFocus-3.4.x
Tag:
Date: 2019-11-14 10:55:15 -0800
Builder: omnibuild
Host: tb1010g.private.omnigroup.com
Revision: 337506
[2] https://discourse-test.omnigroup.com/t/problems-with-1-past-due-items-and-2-forecast-view/32629/11