(I already searched for any related topic but all I found was five topics talking about the Eisenhower Matrix but not specifically about it)
Hi all,
I'm huge fan of the Eisenhower Matrix since it helps me quickly prioritize my stuff and, maybe even better, find out at a glance where I'm standing when looking at the matrix.
Long before start using OmniFocus I used to use Focus Matrix, which is a neat software package that leverages the Eisenhower Decision Principle.
Then I started using OF so Focus Matrix was kind of relegated for only the visual representation of the tasks priorities, while all the heavy lifting was made with OmniFocus.
This workflow soon proved to be quite inefficient so eventually I ditched out FM in favor a contexts system based on the Eisenhower Matrix: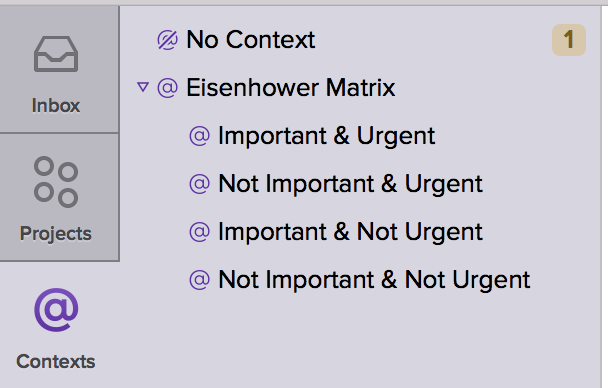 This comes of course with a big drawback: in OmniFocus 2 you can only assign one context to each task, following the GTD principle - so, for example, I'm unable to prioritize my stuff depending on the context I'll be doing it. Good thing is that being OmniFocus 3 around the corner is a great relief as I believe the new tags system will solve a lot of similar shortcomings.
What I would really love to have in OmniFocus 3 is a visual representation of the so-called Eisenhower Matrix as seen in Focus Matrix and similar apps; while I was able to hack something in the line with OmniFocus contexts, it's not the same as having a visual feedback of what's going on: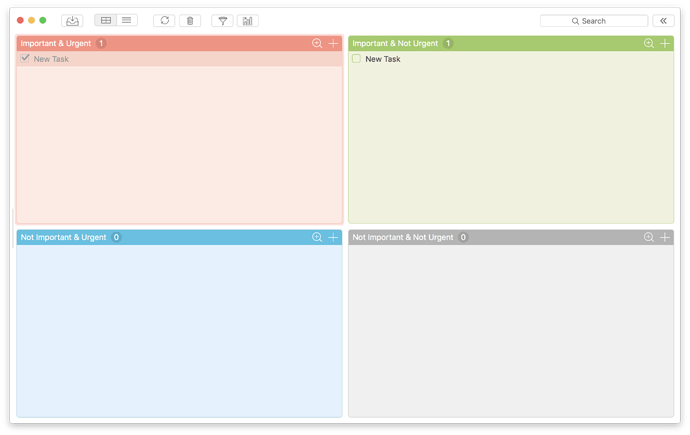 Thanks!