In OmniFocus 3, all of the perspectives are based on the action object, meaning the query you build in the perspectives view are based on action (show me available actions with a tag of X). While this is great for it's own reasons, I'm finding myself wishing I could build perspectives based on the tag object.
For example, in the Tag's screen of iOS, the user is presented with all of the tags with no way to filter the tags themselves. I might want to see only tags which:
Have available actions
Are on hold
Have remaining actions
Have no actions
I believe this was possible in OmniFocus 1 and 2, but disappeared with 3.
In the tags view, tags have little dotted indicators to indicate how many actions are under the tag. This always seems to represent "remaining" actions. I would like the option to make these indicate available actions. If I could filter say on tags that are on hold, I would want this indicator to reflect the number of remaining actions, but if I filtered on tags with available actions I would want this indicator to reflect the number of available actions (not remaining actions). In other words, the indicators should tell me how many actions I should expect to see when I enter a given tag. I would also like the option to change this indicator to an Arabic numeral rather than the never-ending dots!
Here's an example… it appears that I have actions in my Startup tag: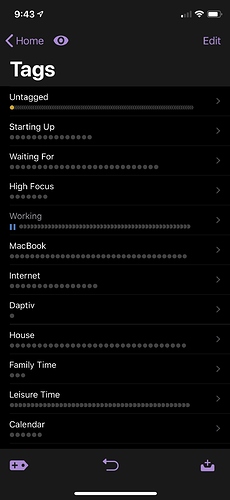 But when I tap the tag, there's nothing in it: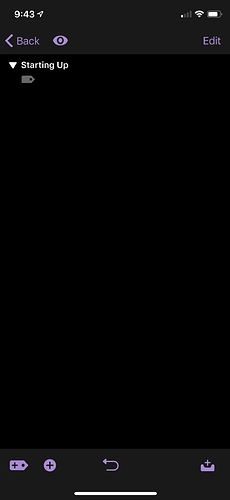 I am also bothered by the "Untagged" section at the top which always appears to have many action in it, but is apparently counting projects and action groups which I don't tag.
I know feature requests should be submitted via the app. I will do that, and when I do I will link to this post for elaboration.