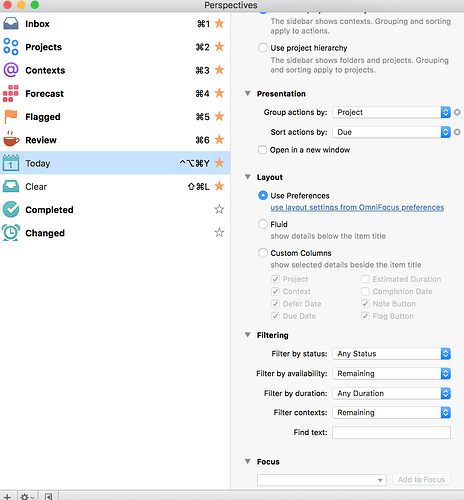 David Sparks in his Omnifocus Field Guide has a good discussion of the Today perspectives. I've mirrored his setup of the Today perspective (see screen shot), but I am also getting deferred items in my Today folder. Can anyone see what I am doing wrong in setting up the Today perspective?
Sparks sets due dates sparingly, and uses defer instead to prioritize tasks that need doing immediately vs. those that don't need immediate action. I like this work flow, as it is easy to run through all one's tasks, and defer everything that isn't due today.
Ideally, the Today view would then show the tasks that are due Today, not the deferred tasks as well.
(PS…Playing around with this, it seems like I can get the Today perspective to only show Today items if I filter by Status, and select Available, rather than Remaining. Is this what others do?)