Hiya everybody,
I have just discovered OmniFocus and I love it, I have tried all the list and time management Apps all the way from SlickTasks on BlackBerry, the BlackBerry Bold was my introduction to the SmartPhone and it was awesome, the speaker and keyboard just blew my mind.
I am constantly looking for new apps, and although I believe in "If it's not broken don't fix it", I'm always looking for the next big thing, "that thing" is now Omnifocus, I went the long way round into buying/upgrading it though, over the years by buying in to SimpleNote, Evernote, Scrivener, (ColourNote and Nimbus on Android) 2Do, Toodledo, so I have all those apps on my blower, sorry iPhone, Mac and iPad & iPod and for very different reasons love them all, over time they have all helped me out in my 2 careers.
I'm a Working Jeweller and A Jewellery Making Tutor, love both my jobs but I wouldn't be anywhere with out a smartphone in my life so "Task Management" is paramount to staying organised, straight and true, I'm all for a paperless office, with every man and his dog owning a smartphone, so Omnifocus came about to me from 2Do reviews on the Mac Store & iOS store, once I'd bought 2Do, (for Mac & iPhone/iPad) I found Omnifocus, how annoying is that, I had to have Omnifocus in my life, having tried it for a week, I love it, it is now my go to to sorting my life out.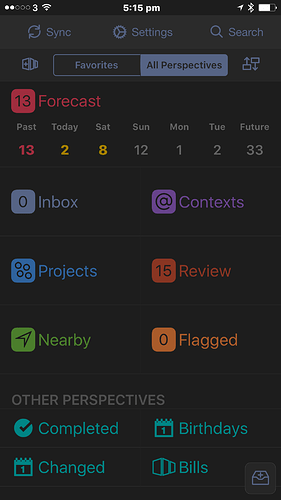 5 questions, on iPhone I created 2 new perspectives, Birthdays & Bills.
Can I edit them?
Can I change Colours?
How do I edit/add to Favourites?
How do I add contexts/projects to them?
& How do I delete them?
Thanks in advance
Mark