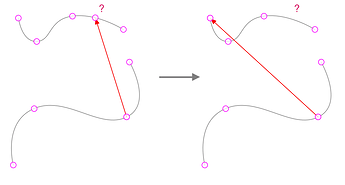 Where a red arrow connects to the upper left line, the Magnets view shows a point of contact.
Not sure what the term for this is, and the omniJS API doesn't expose it in the value of the .magnets property.
( Copy As JS reroutes the connection to from Magnet 0 of the lower curve to Magnet 0 of the upper curve. )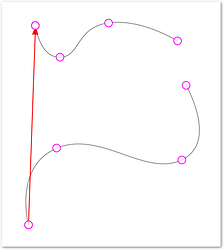 Using the omniJS interface directly (making sure that head/tail are set before headMagnet/tailMagnet) we can restore the attachment to Magnet 2 of the lower curve, ( diagram at top right ) but we can't I think, reproduce the original connection …
I wonder whether these line-to-line points of attachment (pink magnet-like circle between (zero-based) magnets 2 and 3 at top left, are modelled in a way that omniJS could get access to ?