Hello,
I'd like to know if it's possible to sync templates created on my Mac to my iOS.
Thank you
As of OmniOutliner 4.4 for Mac, you can add your OmniPresence folder to the Resource Browser. If you store your templates in the OmniPresence folder, you'll be able to easily access them on both platforms and keep them synced.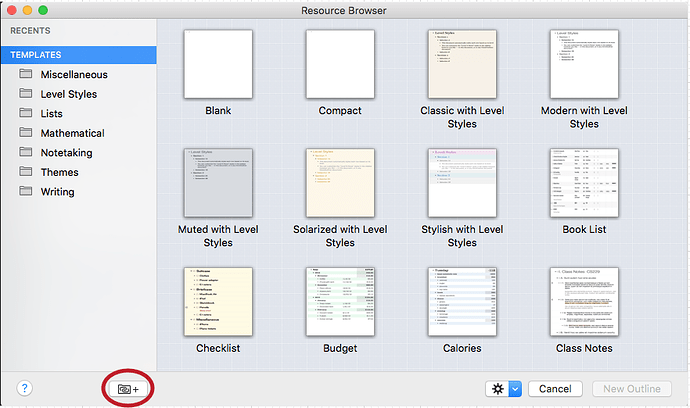 Click this button to add folders to the Resource Browser.
Derek, thank you much appreciated
However, when I save a template from OmniOutliner 4, it does not give me the option to save it in the Omnipresence folder (it only listed all the native Templates folders, even though my Omnipresence folder is linked and shown under Resource Browser) , so I am so far not able to use the template on my IOS.
Please help!! Thank you.
Found a way around it - had to open a new outline based on my template saved in the native Templates folder, then when saving it - save to the Omnipresence folder as a new template. Now this template is in the omnipresence and can get Synced to my IOS.
But I hope future development allows me to directly save the template to omnipresence, without having to do this roundabout approach. Thank you.
I don't recall the details right now, but the Save As Template option is limited due to sandbox requirements. There may be something we can do about it now that we have this option to add folders. However, you can just make a new outline (versus directly making a new template), and when saving it, select the template format from the format dropdown menu instead of the oo3 format.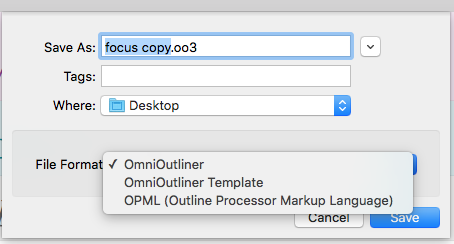 Thank you +DerekM. What worked for me is putting the template file in the omnipresence folder. This made it show up as part of the templates in OmniOutliner iOS.