OmniPlan 3.12 for Mac is now available for download on our website and in the Mac App Store! This release contains a wide assortment of changes and bug fixes, including improvements to both Network View and Change Tracking.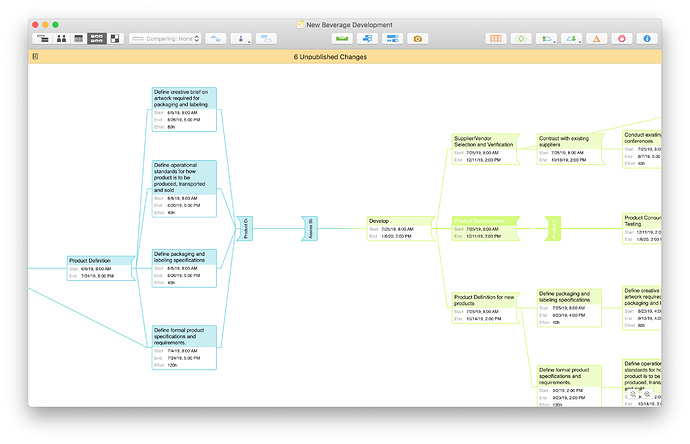 Release Notes
OmniPlan 3.12 introduces support for viewing full task names in the Network View. This release also includes numerous bug and stability fixes.
Network View — Full tasks names are now displayed in the Network View.
Network View — Task data is now displayed in a tooltip when the cursor is hovered over a variable in a task node (helpful when the variable is too long to be fully displayed in the node).
CSV Export — CSV exports now include additional Duration & Effort columns that display values in the smallest unit configured in the Project Formats Inspector.
Change Tracking — Reduced crowding in the Change Tracking bar by moving the Accept All and Reject All options into a gear menu.
Dark Mode — Improved Dark Mode appearance throughout OmniPlan.
Leveling — Leveling a project now schedules uncompleted tasks for the beginning of the next project work day (previous versions of OmniPlan 3 scheduled tasks for the beginning of the current work day when leveling).
Network View — Network View now automatically scrolls to reveal the leftmost task node.
Catch Up — Text entered in the Catch Up as of box is no longer ignored if you click OK before hitting tab or enter.
CSV Import/Export — Exported CSV files now import correctly in non-English localizations.
Dashboard [PRO] — The Resources option in the Dashboard's View menu now stays disabled when the option is unchecked.
Filters — The applied filter is no longer removed after new changes to the filter are saved.
Filters — Fixed a bug that could cause a "Custom" filter to be applied instead of a newly saved named filter.
Gantt — Group completion now redraws correctly in the Gantt when a milestone is marked complete.
Group Tasks — Fixed a bug that could cause group task durations to display a blank or incorrect value.
HTML Reports [PRO] — Report templates with multiple uses of a given looping token now produce the correct output.
HTML Reports [PRO] — Fixed a bug that could cause the Resource Timeline to be cut off in the Report window.
Leveling — Fixed a bug that could cause leveling involving split tasks to hang.
Network View — Enabling a task variable with a long title no longer causes other data in task nodes to truncate.
Network View — The Critical Path menu item now toggles critical path state in the Network View correctly.
OmniGraffle Export — Fixed a bug that could result in incorrect dependency lines or missing tasks when exporting to OmniGraffle.
Performance — Improved Resource View performance.
Printing — Printing now respects visible scale when Zoom has been used to adjust Gantt scale.
Scheduling — OmniPlan no longer presents unnecessary "The end date must come before start date" alerts when opening some projects.
Schedule Exceptions — Daylight Savings Time no longer causes unexpected exceptional days to appear in workweek schedules that include Sundays.
Server Accounts [PRO] — Account Name field now corrects capitalization in Omni Sync Server account names.
Task Inspector — Changing a task's type in the Inspector no longer discards pending task title changes.
Task Notes — OmniPlan no longer allows you to attempt to paste an image into the Notes field.
Task Outline — Disabled the pop-up calendar in the task outline when working with projects that use undetermined dates.
Templates — Fixed a bug using the Edit a Copy option in the Templates Preference pane.
Undetermined Date Entry — OmniPlan once again supports entering "T-" for task dates in projects with undetermined dates.
Violations — Resolved violation icons now disappear from task outline correctly after leveling.
Stability — Sorting resources by resource type no longer causes OmniPlan to crash.
Stability — Improved overall app stability.