This release includes a lot of great improvements, including a new unified Inspector, enhanced dark theme support, and free trials for new customers! More information about this release can be found on Omni's blog.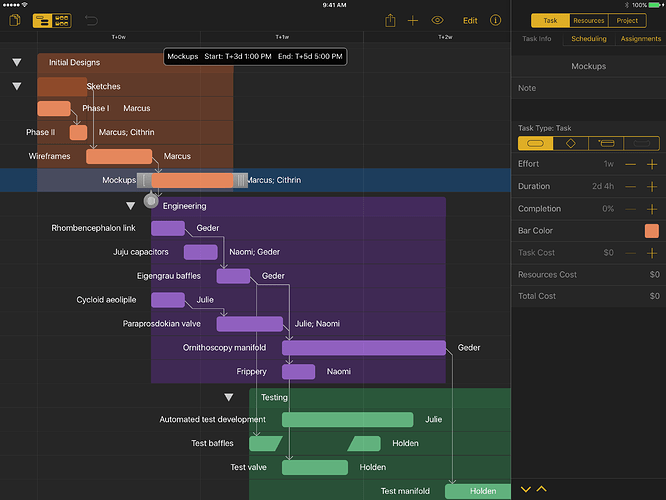 Recent Changes:
OmniPlan 3.6 for iOS includes a redesigned inspector experience, full dark theme support, and a handful of bug fixes. This release also introduces the option for new customers to try OmniPlan for two weeks before purchasing the application.
• Optimized Inspectors — The Task, Resource, and Project Inspectors now open in a unified view on smaller iOS devices and as a unified sidebar on larger iOS devices, allowing for improved access to inspector contents. You can show or hide the unified inspector by tapping the "i" icon. When space is available, inspectors now persist on the screen, making it easier to make multiple changes to your project.
• Dark Mode — Enabling OmniPlan's Dark Theme now applies the dark color palette to the full app interface (previously, applying the Dark Theme only changed the project's color scheme).
• Free Downloads — OmniPlan is now a free download in the iTunes App Store. This change allows us to offer a two week trial and unlicensed read-only mode to new customers who download OmniPlan for iOS. This change does not affect existing OmniPlan customers, and the prices to unlock OmniPlan functionality (Standard and Pro) remain the same.
• Microsoft Project — OmniPlan now supports importing and exporting Microsoft Project elapsed time values.
• Settings — OmniPlan's version number is now displayed in Settings app.
• Task Scheduling Inspector — Prerequisite and dependent task lists now fill the available space (these lists previously only displayed 6 tasks at a time).
• Toolbar — Toolbar icons and layout have been updated to better fit available space. Task, Resource, and Project Inspector icons have been consolidated into one "i" icon.
• Keyboard — Addressed a bug that could cause the on-screen keyboard to appear the wrong shade of grey on some devices.
• Localizations — Elapsed duration key label is now localized in the duration keyboard.
• Microsoft Project — Fixed a couple of bugs related to Microsoft Project import/export.
• Network View — Fixed a bug that could prevent Task Inspector navigation arrows from functioning if tasks were added in Network view immediately after project creation.
• New Tasks — New task title text is now automatically selected after task creation to allow for quickly renaming tasks.
• Server Repositories — Renamed buttons to reduce confusion when setting up a new server repository.