Hey guys I had a quick question about Automating Omni.
Is there any way to quickly add attachments or pictures to an Omnifocus task?
Now I would like to be able to do this for both iOS and Mac, but I'll show you what I mean on iOS first…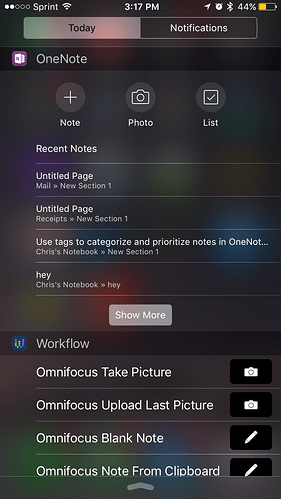 In Onenote I have the option to just snap a picture on the fly and upload it 1, 2, 3.
I was trying to figure out a way to do that in Omni
Having to manually own the camera app, take a picture, open my pictures, hit the Share button, Open a task, title the task and save it is really really tedious for my needs.
I've come up with a few solutions.
The first is an app called Workflow that automates tasks
If you look in the image I included earlier in the post, you'll see it under the OneNote Options.
When I click "Omnifocus Take picture" it automatically opens the camera app, and when I snap it it emails it to my Omnifocus email.
I'll share these workflows at the end for anyone who's interested.
But still, this workflow is a little problematic. The first is, I don't necessarily want my email "Sent" box cluttered up with all my Omnifocus Email. The second is, the emails sometimes take a bit to sync. For example, sometimes I'll send the pic then 10 minutes later I'll get the task in my Omni.
Now I have the same issue on the Mac version. For example the Quick Entry is amazing. I hit my keyboard shortcut and it pops up. But it would be nice if I could find a pic on my Mac or on the Web and have the same quickness. Plus I find that adding pic attachments from the web is problematic. It adds the URL rather than the pic itself.
Anyway, here are the workflows I build.
You just have to replace "YourOmnifocusEmailHere"with your Omnifocus Forward-To Address and the "Ask When Run" box with your email.
Anyway, anyone has any other solutions? Applescripts? Automator Services?