Hi everyone,
This is my first post on the forum :)
I have been using OmniFocus 2 for iOS for a year now; it took a while to get use it and tailor it to fit my life, but there's always room for improvements. Please check my setup and let me know if I'm doing anything wrong, or could use improvements. Thanks in advance!
This is my "Home"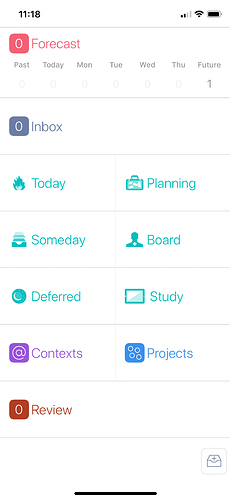 My custom perspectives are:
Planning: shows me all everyday-life actions available, so that everyday, I can pick some actions to complete. I pick actions by flagging them. Flagging them shows them in "Today" perspective.
Today: shows me available flagged items. I only complete items that are flagged.
Someday: shows items that have the context "Someday". This context is on hold so that I don't see it in "Planning" perspective. These items don't need to be done anytime soon, these are items that I would like to do one day, but I'm in no rush to do, but I do check one in awhile to try to complete some of them,
Board: shows me important items that take long to complete, and must be worked on daily, in chunks. I need to work on them a little bit everyday and want to keep in my mind everyday, but because they are important items, I don't want to see them with my normal single actions in Planning.
Deferred: shows me items that have a defer date on them. I check this sometimes just to see what lies next ahead of me.
Study: this perspective shows me only two projects "Catch up" and "Weekly Prep". I add items for my university work in these projects, so that they have their own space, and don't mix with my non-study life.
////////////////////////////////////////////////////////////////////////////////////////////////////////////////////////////////////////////////////////////////////////
I almost never use "Context" or "Projects" as item picker, but nonetheless, I use these contexts:
Quick Actions: actions that are quick to complete
Study: actions that involve me studying
Home: actions that can be done at home only
Out: actions that can be done out only
Need More: actions that require more planning
Routines: actions that are repetitive (e.g change toothbrush, cut nails…etc)
On The Board: actions that I want to be shown on my "Board" perspective
Waiting for: items to remind me what I wait for, and from whom
Someday: actions that I am in no rush to do
and my projects:
Personal: Single Actions
Personal: Health
Personal: Stay in Touch
Personal: Development
Personal: Notes
University: Uni Single Actions
University: Weekly Prep
University: Catch up
University: Events
University: Read Later
University: Goals
System Maintenance
I review every week (on Saturday mornings), and I check my "Planning" every day in the morning. I must unflag items that I couldn't finish before I go to sleep, so that my "Today" shows 0 items by the end of the day.
Thank you for reading my setup! Please feel free to comment on any part of it.