So I'm trying to set up a custom "Today" view that functions similar to the way Things 3's "Today" view functions. In Things, the Today view shows everything you have labeled that can start "Today" (or whatever day you tell it to start), and the tasks will show up there and never leave that area until they are completed (or dates changed). The "When" dates, as they call them, are more akin to OF's "defer" (they have a deadlines feature that is used fairly sparingly, as it should be–due dates should only be used for things with an actual, hard due date).
The problem that I'm having is that I can't figure out how to show the items that I have deferred to today, along with Due and Flagged items. I can get the tasks with hard due dates to show up just fine (same goes for flagged), but I'd also like to show the deferred items that just popped up that I can also take care of. I don't want them to have to be flagged in order for me to take care of them–I use flags sparingly and don't want to start throwing them on everything that is deferred (which will probably be a majority of my tasks).
Is that possible in a custom perspective? I feel like it should be, but I just haven't cracked it.
Here's the way I have it set up now: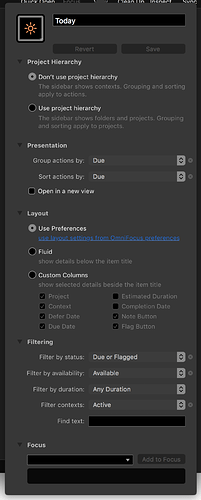 Any help would be really appreciated. Thanks!