Let's build a custom perspective in OF today!
Objective: I want to build a Custom Perspective since long to utilise my free time more reflectively rather than reactively. Typical eg is When am in an ER shift on night when there are no patients to attend to
Requirement: I tend to spend a lot of free time in shallows fiddling with emails, random whatsapp chats, logging to various discourse forums all this reactively. Reading a page in book 1 then book 2 etc.
What If I have a go to place where when I am feeling lazy or bored there are interesting things which I can do by choice.
It's like Instapaper for Leisure time.
Drawing Parallels: Why use a Read-It-Later Service


Q1: A tag based perspective? What tags?
Ans:
Tasks for my Phone use: (iPhone)
Imp things that come to mind to be done on phone
like calling someone (casually)
wishing someone happy Birthday
Mailing something
Reading on Instapaper
Knock off daily habits on Productive
Paying Bills
Reservations/Bookings for Trips, Movies etc.
Tasks for my Mac Use
Downloading something
Create an outline on OmniOutliner
Take printouts
Continue some Online Course
Mindful Reading on Kindle.
Creating Notes from Recently read stuff.
"Thinking" about some idea that I recently read/ came across.
Broad "Daily Habits" :
• Tick Off Productive. (iPhone)
• Clear " Youtube Later" (iPhone)
• Clear "Instapaper" (iPhone)
Q2: Possible Tags?
Energy: Low
Kindle
Evening
Get in Touch
Errands
Free Time
Print
Subscriptions
Internet
Leisure
Reading
Watching
Activity
Creative
Learning
Drive
Think
Q4: Sorting?
Group actions by: Changed
Sort actions by: Added
PS: Does vice versa seem a better option?
Q3:Refining it ahead?
There are important things and not so important things we do on iphone/Mac. How to segregate? an option is to have sub tags below iPhone as work related or non work related but that seems complicated
how to use tags effectively?
how to sort it better?
keeping it simple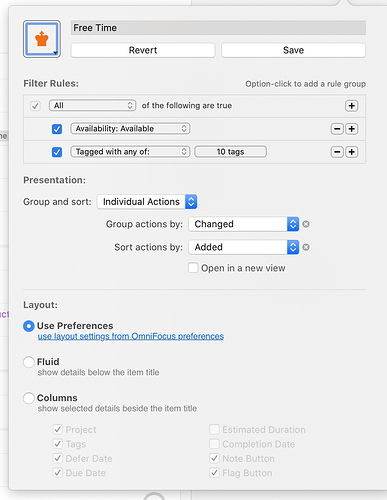 Your thoughts are welcome
PS: Special thanks to @timstringer as he has really put across a worthy forum to help with the learning curve of OF.
Over time I realised learning many things together is a recipe for failure.
Initially it is important to bring in the habit of just start opening the app daily. thats step 1.
taking small steps and making them a part of your life can inly bring about the use case scenarios specific for you in OF.
I would love to hear thoughts if it iterates with you & about how can we refine the perspective further.