Trying to make an electrical diagram with wiring depicted as many orthogonal lines connecting many pins on many different connectors. The desired look is to have lines running parallel to one another and maintain consistent spacing relative to each other as they turn. Example of the desired look is shown in the first image below.
The first image was created by manually manipulating the lines for spacing. This would be a lot of work on a diagram with hundreds of wires, especially because the effort would need to be updated any time a "connector" was repositioned on the diagram. I am used to this functionality as default in Visio, but cannot figure out how to accomplish this automatically in OG. The behavior I am seeing in OG is that as the "connectors" are moved around, lines begin to simply stack on top of one another as shown in the bottom three images.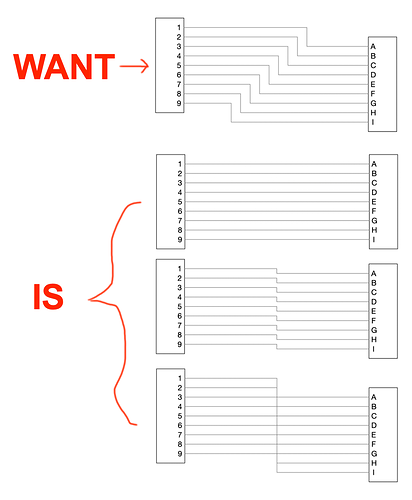 Does anyone know how to achieve the desired look automatically?