Hi,
I'm trying to draw a conventional organization chart that has a neat pyramid-looking hierarchy.
The attached picture shows the problem I encounter when new children are added - the lines are kinda out of control and go all over the place.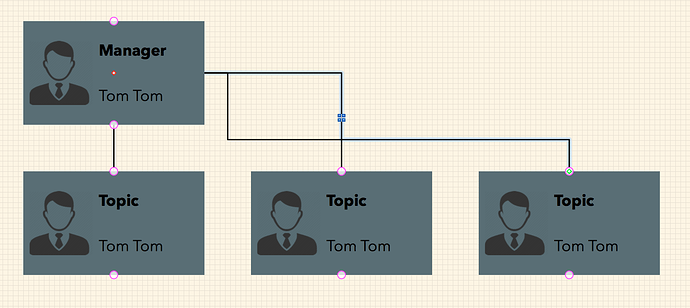 Diagram Layout is set to Hierarchical and Auto Layout is checked.
The group that consists of four boxes (outline, picture, title and name) is set to "Connect to the group" with "2 magnets: N, S" and "Default Object Ranking".
Instead of having the lines attached to the center of the parent box and go sideways, is there a quick way for me to strictly make them stick to the bottom center of the parent and top center of the children?
Individually dragging each one of the lines into position doesn't seem to be a very efficient way…
Thanks.